HawkSight SRM platform features & benefits
Data-Driven SRM
Digital Safety & Security Risk Management (SRM)
We make businesses and organisations safer. Our propriety software supports effective safety & security risk management, providing real-time management solutions that enable real-time decision making.
virtual Global Security Operations Centre (vGSOC)

ISO Standard Security Risk Analysis

Audit

Training & Support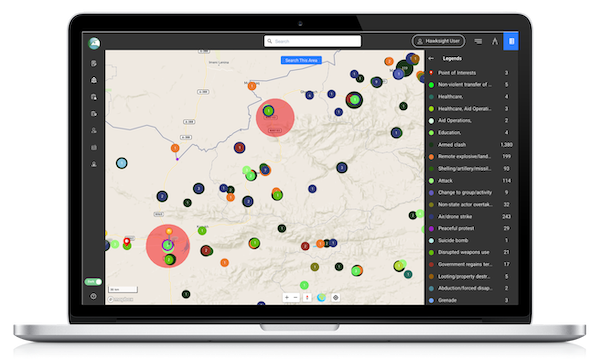 Digital common operating picture
HawkSight SRM software supports GIS mapping and analysis.
Create layers to visualise your:
Fixed locations
Mobile assets
Point of Interest (PoI)
Map drawing tools
Add layers of event data to include:
External security event data feeds
Internal incident reporting
Health data feeds e.g. COVID 19
Analyse event data using:
Cluster mapping
Heat mapping
Charting
Set up alerts and notifications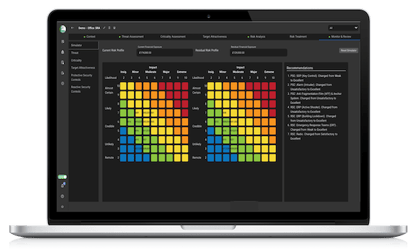 HawkSight™ SRM
The HawkSight Security, Risk management algorithm, is compliant with ISO 31000:2018 risk guidelines and automates the accurate calculation of risk in a fraction of the time it normally takes using spreadsheets.
Creating baseline templates reduces repetition and making managing even the most extensive & numerous portfolios simple. Quickly run risk simulations to hone mitigation strategies and identify residual risk.
The report builder drives a paperless approach to risk reporting using image capture & dictation functionality to tailor reports to mirror house styles and match internal reporting guidelines. Include as much as little detail as required and easily update and circulate.
With global travel restrictions in place, HawkSight SRM software supports remote risk reporting on one common global platform.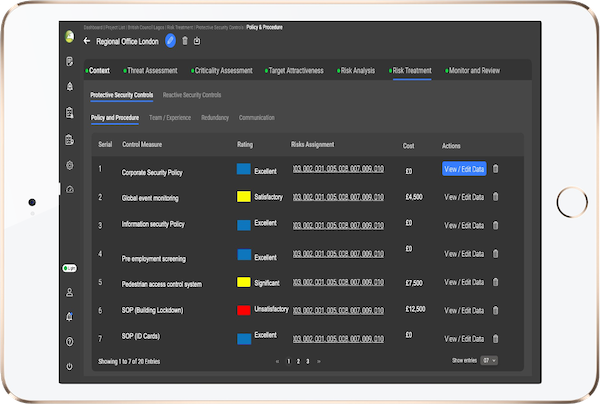 An enhanced audit tool assures compliance with both existing audit requirements and ongoing risk assessment to ensure the suitability of existing controls.
Audit:On functionality, users can upload existing security controls as part of the setup and conduct an automated gap analysis against each assessment's dynamic risk profile.
Carry out security control audits on a tablet, added audit notes & images through keypad or dictation functionality.
Assign & manage mitigation tasks, set the frequency of audit updates, and assign each control measure costing.
View your entire risk portfolio on a tailored dashboard, with associated costing and assign task management notifications.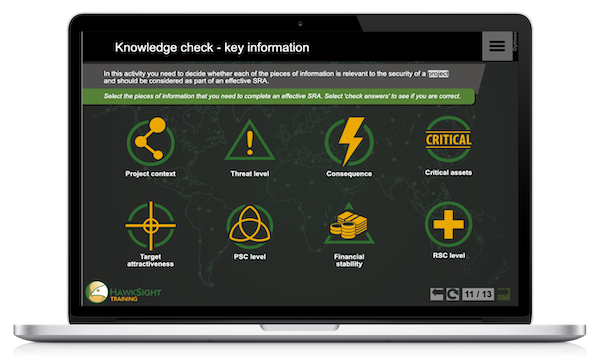 On line training 24/7/365
Full training is embedded in each HawkSight SRM software account, for all users, available 24/7/365, and includes:
E-learning – HawkSight Certificate in Security Risk Assessment methodology
Product training

Video training
Online user manual
Knowledge base
On line support
The HawkSight Support Team is ready to help, Monday to Friday during working hours.
Go paperless
HawkSight SRM software supports automated digital reporting that can be tailored for your audience, from detailed audit reports to risk summaries.
HawkSight SRM software features
GIS digital interactive mapping and data analysis using 'cluster', 'heat' and charting functionality and mapping tools to create a live common operating picture.
Compatible with any open source or commercial GEO RSS data feed including safety & security event data and health data (e.g COVID 19)
In-app methodology and product training. Online support & pre-configuration options.
Audit function scaled to tablet with dication and image capture function.
Multi assessment efficient
Central risk master database and template functionality support multi-site SRA efficiency. A configured account can produce a pre-audit risk assessment in under 15 minutes.
Mapping dashboard shows global location and risk level. Assessment dashboard supports a view of groups of assessments, summarising current & residual risk profile, outstanding recommendations & control costings.
HawkSight risk algorithm is compliant with Standardised risk ISO 31000:2018 risk guidelines and ISO 450001:2018 OHS guidelines.
Amazon Web Services (AWS) & encryption.