e-learning
Certificate in SRA Methodology
The Certificate in SRA methodology offers users training in ISO standardised security risk assessment methodology as an essential foundation to digital security risk management onboarding.
Course costs £99 (plus VAT) for one year access.
NOTE: The cost of the Certificate in SRA methodology can be redeemed against any initial annual purchase of a HawkSight SRM software license purchased within 60 days of the date of certification.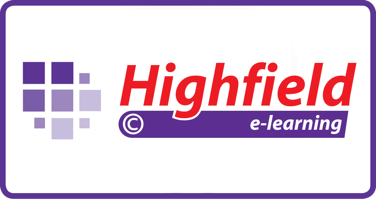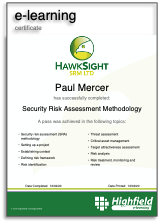 Introduction to Security Risk Assessment (SRA) methodology
Setting up a project, establishing the context and defining the risk framework.
Risk identification; threat assessment, critical asset assessment & target attractiveness assessment.
Risk analysis. How to calculate Likelihood, Impact to define the risk level.
Building a risk treatment plan & the importance of monitoring to review, assess and update your mitigation strategy to ensure the risk profile remains within your tolerance.
On successful completion of a multiple-choice test at the end of each module, your certificate will be authorised subject to your training licence level.
"This course delivers very clear & precise criteria & process of Security Risk Assessment Methodology. I thoroughly enjoyed learning"
"I have been promoted to the role of Senior Threat Analyst. Thank you so much for providing me with the best learning opportunity. It is really significant in my professional development"
"Course was very informative. It was a great learning experience"
"I`ve completed the training course. Thank you! It was very illustrating. I wanted to say that your methodology is the best and most complete SRA methodology I`ve seen."
"[The] SRA methodology course enhances my practical knowledge and helps in my career as a security risk and threat professional. Amazing course with interesting graphic design and quizzes, really enjoyed while learning. This course will definitely help me in achieving my goal in future."
"Amazing tool! Fantastic course indeed as a comprehensive content & design of delivery. A highly recommended course"
"Fantastic course! I have gone through the Security Risk Assessment Methodology course and I found it so useful and helpful."
"A really good awareness of the methodology and definitely something I will utilise in my organisation."
Can I do the course on my laptop?
Yes, the course is designed to run on a laptop and tablet and run best-using Chrome as your browser.
How long does the course take to complete?
Does the course consist of five, one-hour modules, with a test at the end of each?
Can I complete it in my own time?
The course is an online learning course so you can log in and out of the course as and when it suits you subject to the length of the licence purchased. e.g one week, one year etc. It is recomended that you complete a model on each session however, or you may be required to start the module again.
Can I get a certificate?
Yes, once you successfully complete the course, including all tests, your certificate can be authorised subject to the training licence you have purchased.
Register here for our next course