Data-driven SRM
Digital safety & security risk management (SRM)
Our platform supports timely & cost-effective safety & security risk management, providing real-time management solutions that enable real-time decision making.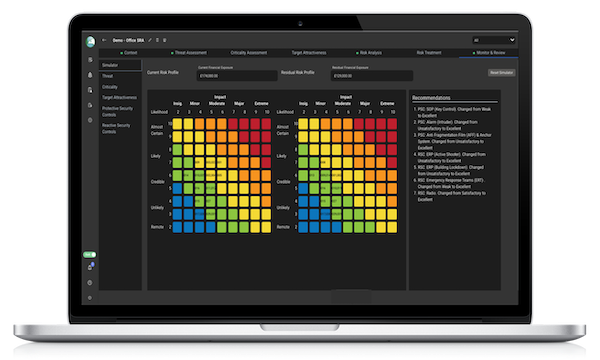 Key Features
The 4 pillars of effective digital SRM
Data visualisation
The virtual Global Security Operations Centre (vGSOC) supports a common digital operating picture of fixed & mobile assets and safety & security event data on one digital platform.
ISO standardised risk reporting
HawkSight™ SRMs award-winning risk algorithm is ISO 31000 compliant. Users complete a series of intuitive data fields and the HawkSight SRM platform does the rest.
Digital audit & task management
Audit:On ensures, your audit requirement remains in line with your risk profile. Inbuilt task manager allows you to assign & track security controls.
Training & support
HawkSight SRA methodology eLearning and product training are embedded supporting straightforward implementation and refresher training across your account.
Testimonials
What our customers say
'" Having used the HawkSight SRM successfully in a previous role, it was an obvious choice when delivering an SRM platform to my client. Paul's subject matter knowledge is extremely reassuring as are the continued levels of support from the HawkSight team post-implementation"
"Broad & detailed market research was carried out to identify a functional, objective solution for providing a Digital Security Risk Management solution for our global clients, with HawkSight coming to the forefront of what we need to safeguard our clients. HawkSight provides a solution that provides assurance to the Senior Management Team that the service we provide meets our clients' expectations, that being the solution is consistent, meets the global standard and that the output can be understood in order to implement areas for improvement."
"Jacobs required a security risk management tool to provide a standardised approach to SRM across the organisation. We needed a platform tailored to our security standards that could integrate with our global intelligence provider and support the visualisation of project & incident data on one platform. Jacobs needs to demonstrate that the controls we audit effectively mitigate the risks we identify to create permissive environments for our projects to be successful. HawkSight was the only platform we reviewed that delivered against these requirements".
"The HawkSight platform is a highly intuitive and detailed system that allows a robust analysis of 'Risk' when applying a wide variety of threat types, asset types, and reactive and proactive security controls. This analysis is then displayed in easy-to-comprehend Boston matrices in a pre-mitigation and post-mitigation format. The platform, although complex, is user friendly and has allowed us to complete a number of comprehensive Security Risk Analysis reports for clients. We are looking forward to the future evolution of the platform as it is becoming an important element in our Security Risk Assessment service provision."
"HawkSight Software has been hugely successful for us. They've done a first-class job in training our team and the system is fundamentally intuitive to use"