Data-driven SRM
Digital safety & security risk management (SRM)
Our platform supports timely & cost-effective safety & security risk management, providing real-time management solutions that enable real-time decision making.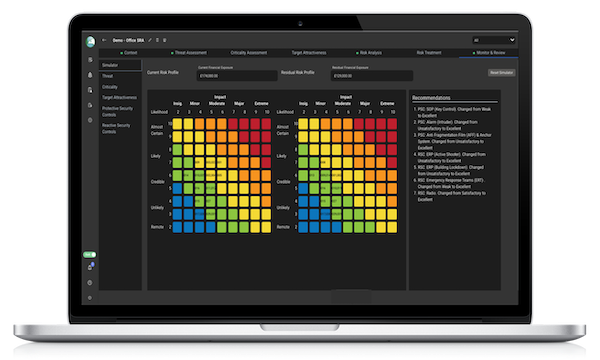 Digital time saving
Increase the productivity of security risk managers & consultants by up to 89%
Digital delivers standardisations, accuracy and continuity in all your safety and security risk reporting whilst, saving you up to 89% time-saving.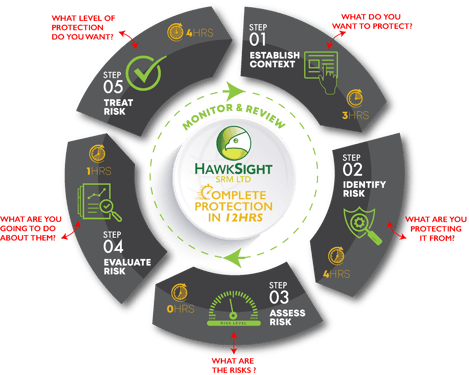 ISO standard risk reporting
What is a security risk assessment (SRA)?
Ask ten different security professionals to carry out the same security risk assessment, you may well get ten different answers
HawkSight SRM software is compliant with ISO 31000 risk guidelines. Download our ebook to learn more.
Key Features
The 4 pillars of effective digital SRM
Data visualisation
The virtual Global Security Operations Centre (vGSOC) supports a common digital operating picture of fixed & mobile assets and safety & security event data on one digital platform.
ISO standardised risk reporting
HawkSight™ SRMs award-winning risk algorithm is ISO 31000 compliant. Users complete a series of intuitive data fields and the HawkSight SRM platform does the rest.
Digital audit & task management
Audit:On ensures, your audit requirement remains in line with your risk profile. Inbuilt task manager allows you to assign & track security controls.
Training & support
HawkSight SRA methodology eLearning and product training are embedded supporting straightforward implementation and refresher training across your account.
Testimonials
What our customers say
"HawkSight Software has enabled us to standardise our security risk assessment approach, provide continuity in our risk reporting and helped us to visualise and monitor the risk profile across our UK real estate. We continue to work with HawkSight SRM to refine our risk reporting and are now using HawkSight Software for annual Travel Security Risks Assessments as well." Richard Stanley, PwC Head of UK Security
"HawkSight Software has been hugely successful for us. They've done a first-class job in training our team and the system is fundamentally intuitive to use"
BlackSite International, USA"HawkSight Software's ability to calculate risk based on ISO 31000 risk management guidelines was invaluable"